This page is where I share my favorite brands and recommendations, plus special discounts and promotions.
NOTE: this page contains some affiliate links and discount codes. I earn a commission (at no additional cost to you) if you use them to make a purchase.
Kosmea Rosehip Oil
This CO2 extracted rosehip oil from Kosmea is my personal go-to because it's CO2-extracted from the whole rosehip fruit (seed, pulp and skin).
It goes on very smoothly, absorbs fast and smells very pleasant (slightly musky). Works great on its own or in DIY recipes!
Use code GIVETHANKS10% to get 10% off rosehip oil and other Kosmea products here. Discount is valid from November 1 – 30, 2022. You can use the code as many times as you want throughout the month 🙂
Pai Rosehip Bioregenerate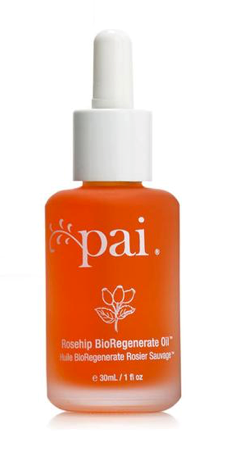 This product combines high quality, CO2-extracted rosehip oil (from the seed, pulp and skin) with vitamin E and rosemary leaf extract. This particular rosehip oil has gained "cult favorite" for many consumers because Pai has very high standard with it comes to things like farming methods and production (they make the final product in-house, rather than outsource it).
Mountain Rose Herbs
If you enjoy making your own beauty products – or you're thinking about getting into DIYs – then Mountain Rose Herbs is one of the best online retailers to get ingredients from. They have a massive collection of herbs, essential oils, carrier oils, and butters. Plus, everything is organically grown, which means less nasties to worry about!